OUR SERVICES
TOY DRIVE FOR NEEDY CHILDREN
DONATIONS TO YOUTH EDUCATION

DONATIONS TO VARIOUS CHARITIES

Photo Album Gallery Place Holder - Please wait while the Photo Album loads. If the album does not show, please refresh the page to try again.
STAR SADDEN BY LOSS OF LONG TIME MEMBER - KEN SMITH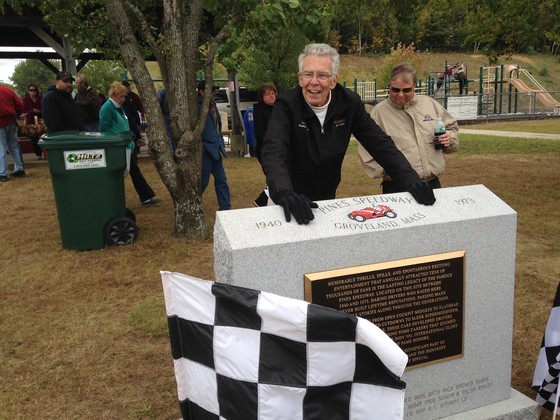 STAR is saddened to hear that we have loss a long time STAR member, Ken Smith who was one of the founders of the New England Super Modified Association, NESMRA. Ken was also a big part of the Pines Speedway Reunions. This has been a great loss to STAR and the racing community. We send out our thoughts and prayers to his entire family.

STAR RELEASES 2017 TENTATIVE SCHEDULE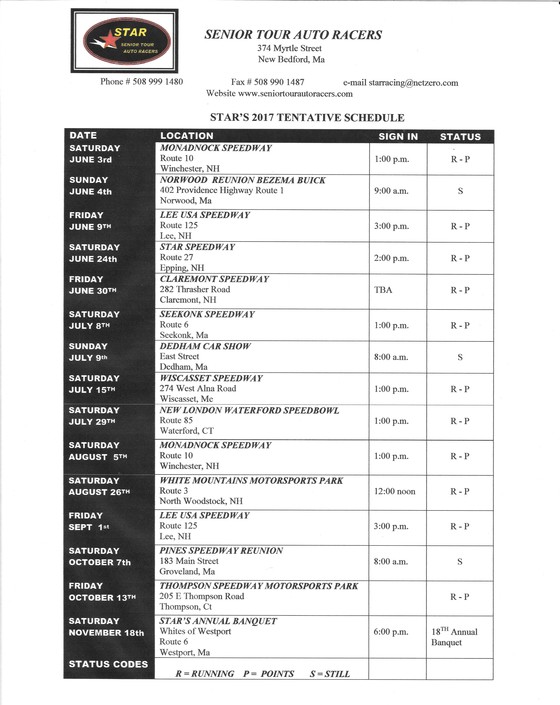 STAR'S 17TH ANNUAL TOY DRIVE DAY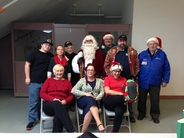 On December 21, 2016 Senior Tour Auto Racers once more made their appearance to the Pace Head Start Schools in the City of New Bedford, Ma for their annual toy drive day. This will be the 17th year that STAR has been donating toys to the needy children at Christmas time. The children were awaiting for Santa to come and give them a Christmas that they would not have had. But because of the members of STAR we were able to once more make the lives of these small children a dream come true.
All year long Toy Drive Chairperson Tammy Barboza has been collecting toys and donations to buy toys to service about 300 children. STAR would like to thank the following for their support as being elves and helping with the toy drive: Matthew Barboza, Michael Barboza, Charlie Lima, Mary Lima, Dwight Lowes, Bill McAvoy and Kevin McCarthy. A special thank you goes out to Dennis Lowes for playing the role of STAR's Santa again this year. And hats off to our Chairperson Tammy Barboza for all her hard work and dedication to the STAR Toy Drive, without her this would not have happen.
A very special Thank You to the STAR members who had a big heart and the thought of giving. None of this would have happen if it was not for all your support.
STAR has already begun the 2017 season for collecting toys and donations. The ages of the children we service is from 3 to 5 years old.
Help support the STAR toy drive by bringing a toy to our meets or by mailing donations to Senior Tour Auto Racers marked for Toy Drive. THANK YOU TO ALL!
STAR CLOSES 2016 RACING - THOMPSON WORLD SERIES

This was the first year STAR was invited to be part of the Sunoco World of Series at the Thompson Speedway Motorsports Park and what a great night it was! STAR cars from a over New England and Canada were part of the show to showcase the rich tradition which has made this event and Thompson Speedway Motorsports Park what it is today. It was like walking back into time, with a full field of cars running side by side and giving a flawless show!
Congratulations goes out to our winners Darryl Dutch from RI in his #6 Pinto for taking down the last checkered for the Modified Division for 2016 and Congratulations to Michael Keddy from NH in his #50 coupe for taking down the last checkered for the Sportsmen divison.
But the weekend was not over for STAR, President Charlie Lima was on display the entire weekend so the fans could enjoy the vintage car up close, reminiscing over days long past and names forgotten.
We at STAR are proud to announce that we will once again be part of the 2017 Sunoco World of Series at the Thompson Speedway Motorsports Park on October 13, 2017! MARK YOUR CALENDARS!!!!